Artists. Makers. Friends
We love their creativity. Each imparts a rare spark of genius to their work while paying homage to the way things used to—and should be—made. Our artisan partners make it possible to offer distinctive products found nowhere else.
Featured Artist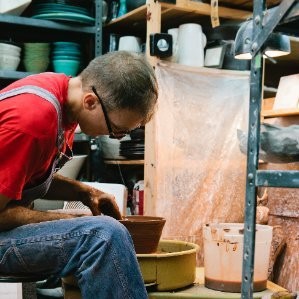 Collection:

Eric Bonnin
Ceramist
Eric Bonnin
Eric Bonnin has been working with clay ever since moving to New York City from Paris in 1994. Ceramics seemed like the perfect challenge and creative outlet after having studied the decorative arts and worked in the contemporary furniture world in Paris. All Eric Bonnin Ceramics are handmade in New York City using traditional techniques including wheel-turning and hand-building to produce functional and decorative pieces as well as a jewelry collection. Each handmade item is signed with Eric's maker's mark and the city of origin.